Hurricane Harvey Giving Back Stories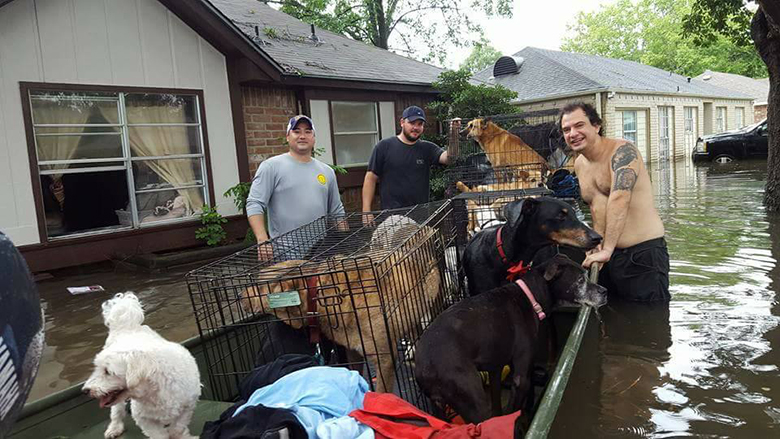 Fourteen hours later, two men with a small boat appeared and started loading up the dogs. When they were done, they had a modern-day Noah's Ark with 21 dogs onboard.
Houston is underwater. Traffic lights topple in Corpus Christi. The National Guard evacuates Katy. The streets of Rockport are a now a rising river. Around 30 percent of Harris County, home to 4.5 million people, was flooded by Tuesday afternoon. Tens of thousands have lost their homes.
And so have their pets. The internet is filled with photos of families clutching their dogs as they wade through chest-high water. But there are also many images of pets in dire need of help and stories of those who have dropped everything to come to their rescue.
The animal rescue community has mobilized, but some of the most heroic stories of rescues are about local citizens who risked their lives to save an animal.
Here are 5 great animal stories about human kindness and sharing.
A heartbreaking image: a small terrier mix, tethered to a pole, alone in the rising water.
A German Shepherd was found abandoned in his crate on a bus that was ferrying evacuees to the George R. Brown Convention Center
On his way home to take care of his own dogs, Aaron Jayjack stopped for gas in Runge, Texas, and a dog who had been following him down the road jumped into his car.